Our Life and death is with our neighbor. If we gain our brother, we have gained God, but if we scandalize our neighbor, we have sinned against Christ.

— Abba Anthony

---
When Jesus was questioned by the religious leaders of his day about the first commandment he said, "The first is, Hear, O Israel: the Lord our God, the Lord is one; you shall love the Lord your God with all your heart, and with all your soul, and with all your mind, and with all your strength. The second is this, You shall love your neighbor as yourself." This dispute of the true and best path to God is ever going. "There is no other commandment greater than these. " This lesson from Jesus and the monk is one in the same. The sacred is in the ordinary which is found in one's daily life – in our neighbors, friends, family, in our backyard. We have never quite gotten that idea down. Men desperately search in so many places for peace with God while in continual battle with their neighbors. Our world is mired in war, violence, crime, racism and hopelessness.
The concept that to gain a brother is to gain God is not one that we often consider. Interestingly, when we truly think about it we can say that gaining a brother is a difficult task. Perhaps gaining a true friend and brother is one of our most challenging tasks. The Urban Dictionary puts it this way," A best friend is someone who is there for you through thick and thin. It's someone who listens and understands you. Someone you can call anytime about anything you feel you need to 'tell' or 'vent'. It's someone who will stand up for you in the times when you need it most, keep your secrets close, and someone you can trust with your life. They will support you in any decision you make even if it's hard for them. It's someone who is there for you as much as they can be and does and says whatever they can to up your mood in down times." That type of brother is hard to find, and it is no wonder that Anthony compared it to gaining God.
T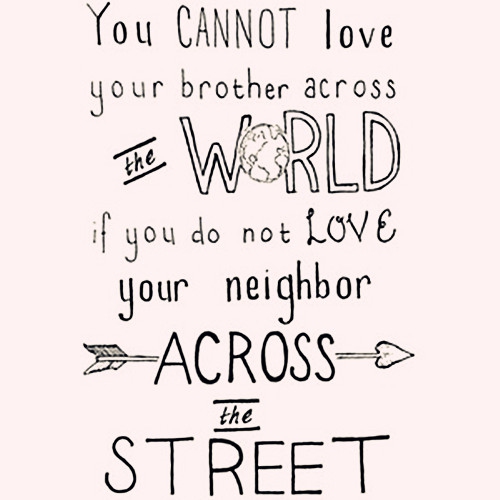 here was a recent incident in my city where a rather flamboyant tow truck operator was killed by his next door neighbor in his front yard for spraying him with a water hose. They were in constant dispute about one thing or another-parking, planting of shrubs- you name it. This 80-year-old man shot and killed his neighbor over ongoing disputes. These proximity neighbors fought over turf and it ended most tragically. Most conflicts are over one turf or another. We are urged by scripture and wisdom teaching to regard our relationship with our neighbor as a relationship with God. By viewing it through that lens, we truly see the importance of getting along. Pray that God will give you the wisdom to see others through His eyes. With that wisdom comes the keys to the kingdom – spiritual wholeness. Such stories are the ultimate degree of sinning against God.
We are called to honor God by honoring one another. Becoming a good neighbor to all is what is expected of us. As we achieve this, we grow closer to God. That closeness to God allows us to become all that he created us to be. All persons were created in His image and should be treated as such.
---
Prayer
Lord, teach me to be kind when my heart resists. Teach me to be patient when it is my nature to be short. Teach me to be giving when I am naturally selfish. Teach me to look to you when I want to look to myself. Teach me to see others as you see them.
Grant this through your spirit that dwells within me. Amen