Patience – The capacity for calm endurance with pain, trouble, inconvenience – forbearance under provocation, tolerance of the faults or limitations of other people. Calm
A teacher had just finished putting the last pair of galoshes on her preschoolers—thirty-two pairs in all. The last little girl said, "You know what, teacher? These aren't my galoshes."
The teacher removed them from the girl's feet. Then the little girl continued, "They are my sister's, and she let me wear them." The teacher quietly put them back on her pupil.
Now that's patience!
Patience is a virtue that we all strive to have. Our world teaches us by default to be impatient. Streaming videos, text messages, ATMS, online payments allow us to get and do what we want instantaneously. There is no need to ever wait because you can get it now. I think that such things are good. None want to go back to postal mail, going to the movies and paying bills at the payment window of each company.
This new way does bring with it a loss of the art of being patient. We are being an increasingly impatient and demanding society. Nothing happens quite fast enough; we have been spoiled by technology and convenience and have become a demanding and impatient society. The cashier, the waiter, the cook does not move fast or efficiently enough for us. We want satisfaction now!
Our creator looks at this in a different way. The psalmist says," I waited patiently for the Lord; he inclined to me and heard my cry." God is trying to teach us to wait and in due time we will receive. That is awfully hard for us in the world we have created. To receive the most important things of life we must wait. This waiting makes the virtue of patience especially important. As a matter of fact, it makes it essential to having a peaceful life.
Road rage,domestic violence, drug use, murder, robbery are all symptoms, though extreme ones, of our lack of patience. God wants us to learn to wait and grow as we journey through life. He calls on us to be observers and stewards of the earth. He wants us to be kind to the less fortunate and loving to the children. God says when we have done it to the least, we have done it to him. Perhaps we can think this week about what it means to be patient.
Our patience will achieve more than our force. ~~~Edmund Burke
The two most powerful warriors are patience and time ~~~Leo Tolstoy
To lose patience is to lose the battle. ~~~Mahatma Gandhi
Patience is not the ability to wait, but the ability to keep a good attitude while waiting. ~~~Unknown
Learning patience can be a difficult experience, but once conquered, you will find life is easier. ~~~Catherine Pulsifer
One minute of patience, ten years of peace. ~~~Greek proverb
One moment of patience may ward off great disaster. One moment of impatience may ruin a whole life. ~~~Chinese Proverb
Two things define you: your patience when you have nothing and your attitude when you have everything. ~~~George Bernard Shaw
Patience is not the ability to wait, but the ability to keep a good attitude while waiting. ~~~Anonymous
Patience is bitter, but its fruit is sweet. ~~~Aristotle
Patience attracts happiness; it brings near that which is far. ~~~Swahili Proverb
Patience is a purifying process that refines understanding, deepens happiness, focuses action, and offers hope for peace. ~~~Dieter F. Uchtdorf
Love is patient and kind; love does not envy or boast; it is not arrogant. Corinthians 13:4
Do not be anxious about anything, but in everything by prayer and supplication with thanksgiving let your requests be made known to God. Philippians 4:6
I therefore, a prisoner for the Lord, urge you to walk in a manner worthy of the calling to which you have been called, with all humility and gentleness, with patience, bearing with one another in love Ephesians 4:2
I waited patiently for the Lord; he inclined to me and heard my cry. Psalm 40:1
Whoever is slow to anger has great understanding, but he who has a hasty temper exalts folly. Proverbs 14:29
Be joyful in hope, patient in affliction, faithful in prayer. Romans 12:12
Be still before the Lord, and wait patiently for him;
do not fret over those who prosper in their way,
over those who carry out evil devices. Psalm 37:7
The Lord is not slow in keeping his promise, as some understand slowness. Instead he is patient with you, not wanting anyone to perish, but everyone to come to repentance. 2 Peter 3:9
But do not forget this one thing, dear friends: With the Lord a day is like a thousand years, and a thousand years are like a day. 2 Peter 3:8
Call to me and I will answer you and tell you great and unsearchable things you do not know. Jeremiah 33:3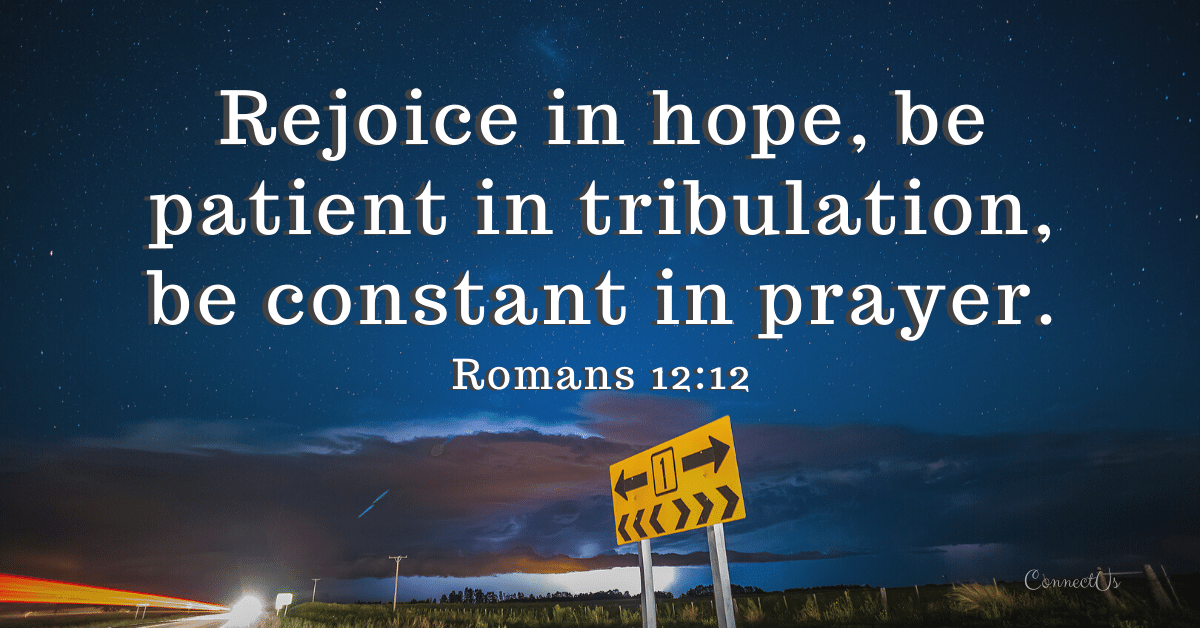 Prayer
Lord, I seek patience in an impatient and demanding world. I seek to be like you and to know that this world is your creation, and in due time, will fulfill your purpose. Help me to be patient as I go though my daily routine. Give me the grace to be patient with those that I encounter each moment. Help me to be patient with myself as I struggle though life's journey. Allow me to see your plan even as I try to force things into my time frame.
Amen